On the 15th of July 2022, GEI Mekong, in collaboration with Management Venture Asia (Cambodia) Ltd, submitted a proposal to the Cambodia Government, Ministry of Mines and Energy.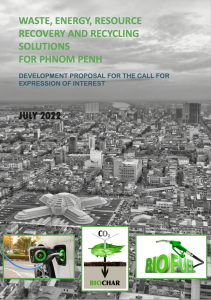 The proposal was submitted in answer to an Expression of Interest (EOI) that the Cambodia Government launched in early July, seeking development solutions for waste, energy, resource recovery and recycling in Phnom Penh, Cambodia.
Cambodia has seen extensive development and a growing economy over the last 20 years, bringing much need positive benefits to the community. However, this development has also brought environmental problems, as waste production per day increases, landfill sites become full and the disposal and treatment of large amounts of waste, requires more viable solutions.
GEI Mekong and Management Venture Asia (Cambodia) have proposed to build a waste-to-energy facility using GEI Mekong's pyrolysis technology, that will process in excess of 800 tonnes of municipal and industrial waste per day and convert it into electricity, synthetic diesel and biochar.
If the proposal is approved, the waste-to-energy facility will not only help reduce waste to landfill in Phnom Penh and convert waste into green energy, but it will bring private investment that creates jobs for many Cambodians.
The results of the EOI proposal are expected by the end of 2022. For more information about GEI Mekong's pyrolysis technology, please contact us via email.