GEI Mekong is supporting Mine Clearance in Cambodia.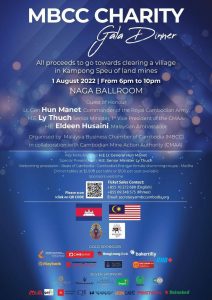 As part of its corporate responsibility initiatives, GEI Mekong looks to support the community in areas where GEI Mekong operates, with particular focus on affecting positive change to peoples lives.
On the 1st of August 2022, the Malaysian Business Chamber in Cambodia (MBCC) will hold a gala dinner in Phnom Penh, Cambodia to raise money in support of Cambodia's target to becoming a mine-free nation by 2025.
Cambodia is one of the countries that has been worst affected by mines and UXOs, with an estimated four to six million landmines and other munitions left over from three decades of war and internal conflicts that ended in 1998.
GEI Mekong, who is looking to build two new waste-to-energy facilities in Cambodia, is a silver sponsor of the gala dinner, along with many other companies operating in Cambodia.
GEI Mekong will be represented at the gala dinner by Director and Chief Executive Officer William Willis.