Mini Hydros are designed to harness the power of water in rivers, streams, running waterways in areas where there is zero electricity.
The advantages of the floater design include: low cost, immediate installation, capacity can be easily increased, ready-to-assemble component formation, and a modular system makes for ease of transportation.
The floating hydro-generation system, is a ready to assemble, easy to transport, low-maintenance, engineering wheel that was created to harness the power of water for all local communities.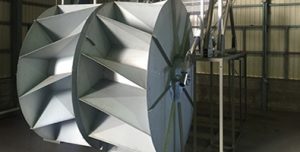 The power of the water is harnessed via:
The angel of the blade
The diameter of the wheel
The flow speed control
The location of gear configuration